Inside the product
Renewing Grape
EXTRACT OF ORGANIC WHITE GRAPES FROM PROVENCE
Revitalizing
Grapes are packed with nutrients, minerals, vitamins and antioxidants such as flavanoids and polyphenols. This fabulous cocktail protects your skin from free radicals and helps lock in its youthful glow. It boosts cell regeneration and tones up your skin.
GRAPE SEED OIL
Antioxidant
Grape seed oil is high in essential fatty acids and has emollient properties; it softens and nourishes your skin and ensures it remains moisturized. It's a renowned antioxidant that neutralizes free radicals to protect the skin barrier. By stimulating collagen and elastin production, grape seed oil ensures your skin stays supple and firm.
What's more, grape seeds boast mechanical exfoliating properties that keep your skin smooth.
Active ingredient
PUMICE STONE
Exfoliating
Pumice is a volcanic-rock stone shaped by nature that is formed when molten materials cool. The use of pumice to soften the skin dates back to ancient times. Its rubbing movement removes dead skin.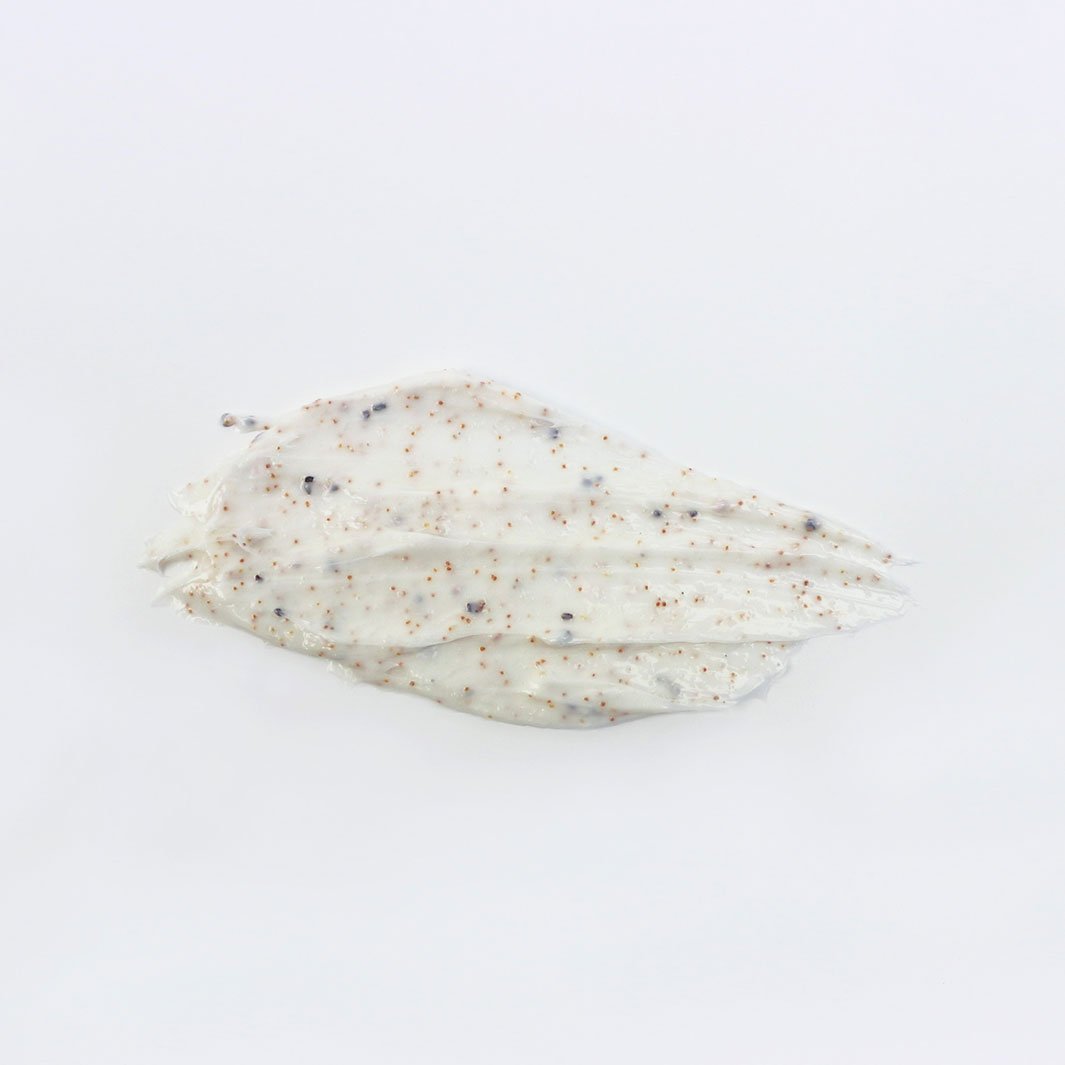 The smoothing full body scrub, the first step in our detox & firming Grape Ritual, prepares your skin to better benefit from the advantages of firming treatment.
This creamy shea butter body scrub, enriched with exfoliating powders of natural origin and plant butter, cleanses and scrubs your skin gently without drying it out. Its effectiveness and sweet perfume make it one of the best body scrub for men you'll find.
Dermatologically tested.
Formula containing 95% ingredients of natural origin.
This 95% natural body scrub illustrates our commitment to sustainable development:
MADE IN FRANCE
This scrub for body, packed full of the goodness of Provence, is inspired, created, manufactured and packaged using short circuits ensuring enhanced traceability.
LOCAL CROPS
As we strive for the highest standards and are deeply committed to protecting our natural Provencal heritage, we favour the use of organic active ingredients from Provence.
VEGAN FRIENDLY
This formula is totally free from ingredients of animal origin.
FRAGRANCES FROM GRASSE
All our fragrances are created by master perfumers in Grass, birthplace of the world's Fine Perfumery, where their perfume-related know-how has been listed as Intangible Cultural Heritage of Humanity by UNESCO. They are imagined focusing on exceptional natural raw materials and are exclusive to the brand.
ECODESIGN
This jar, made of 100% recycled plastic, is recyclable. Our goal is to reduce our waste products, reuse, and recycle for a more sustainable future.
Use 1 to 2 times a week on wet skin. Massage in circular movements over the body to activate microcirculation. Rinse with cool water to tone your skin. You can use this full body scrub before or after shaving. We recommend to moiturize your skin after a body scrub using one of our ultra rich shea body butter. For a complete firming and smoothing routine, you can use our firming cream and/or our smoothing oil.
AQUA (WATER) / GLYCERIN / DISTEAROYLETHYL DIMONIUM CHLORIDE / CETYL ALCOHOL / GLYCERYL STEARATE / CETEARYL ALCOHOL / PUMICE / BUTYROSPERMUM PARKII (SHEA) BUTTER / PARFUM (FRAGRANCE) / PRUNUS AMYGDALUS DULCIS (SWEET ALMOND) OIL / PRUNUS ARMENIACA (APRICOT) SEED POWDER / VITIS VINIFERA (GRAPE) SEED OIL / VITIS VINIFERA (GRAPE) SEED POWDER / VITIS VINIFERA (GRAPE) FRUIT EXTRACT* / HELIANTHUS ANNUUS (SUNFLOWER) SEED OIL / GLUCONOLACTONE / HYDROXYETHYLCELLULOSE / SODIUM BENZOATE / SODIUM HYDROXIDE / CALCIUM GLUCONATE / CITRIC ACID / POTASSIUM SORBATE / LINALOOL / CITRONELLOL. *Ingredient from organic origin
Grape: floral and fruity A sparkling, fruity cocktail delicately mellowed with sensual white flowers.