Inside the product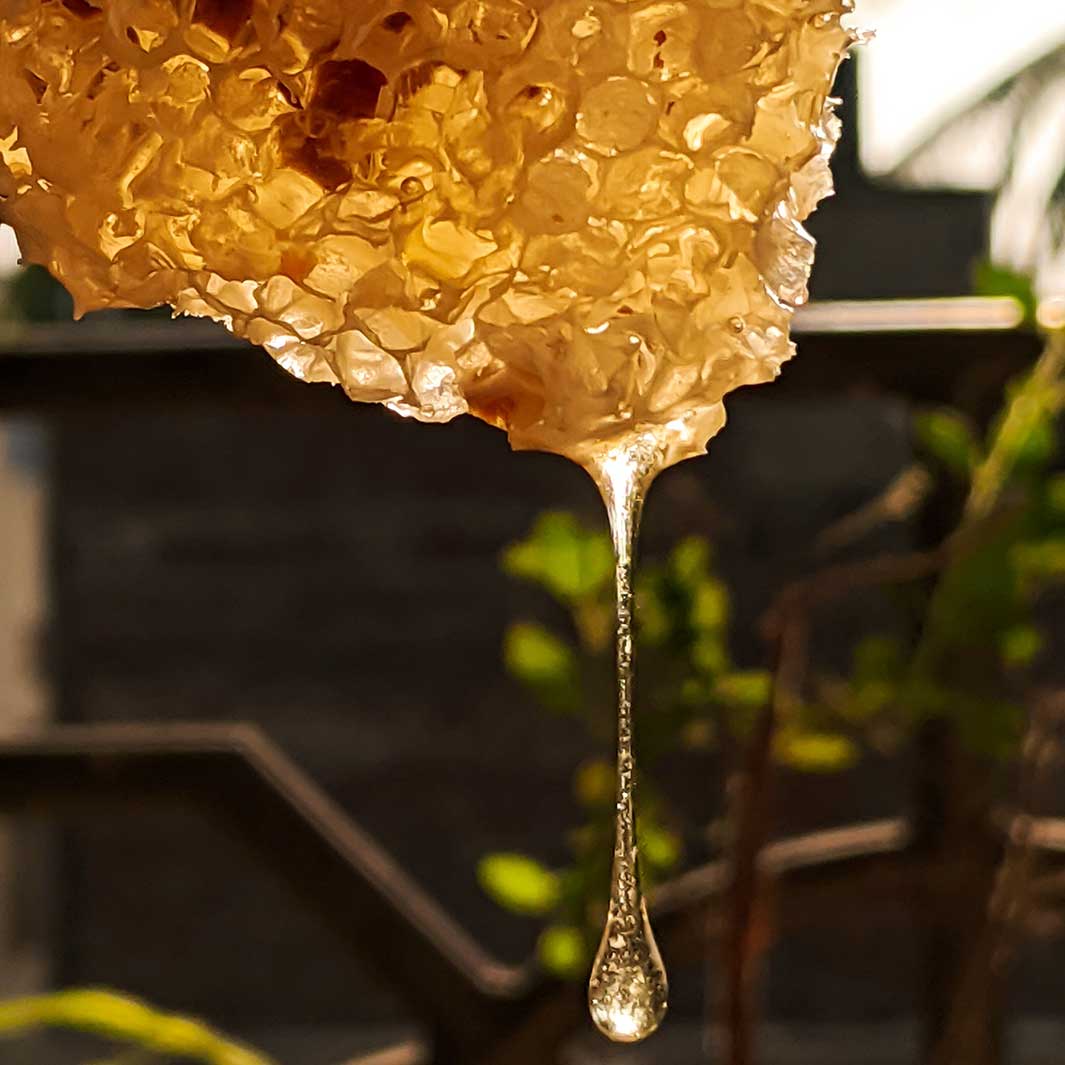 Regenerating Honey
EXTRACT OF ORGANIC HONEY FROM PROVENCE
Regenerating
Thanks to its high sugar content, honey locks water molecules in the cells, boosts moisturizing and stops skin feeling dry. Skin is better protected from external aggressors. Honey is enriched with vitamins and minerals making it an exceptional active ingredient with nourishing and regenerative properties.
PROPOLIS
Purifying
Propolis is a resin that bees collect from buds and tree bark that acts as a shield to protect, cleanse and disinfect the hive. Its high flavanoid content gives it antiseptic, antibacterial and antioxidant properties that help gently cleanse and detoxify skin.
COCONUT OIL
Nourishing
Coconut oil, the star ingredient of the cosmetics industry, stands out thanks to its ultra-sensory qualities as well as its numerous properties. This oil, very rich in essential fatty acids, in lauric acid and in myristic acid, is really easily absorbed by the skin and boasts nourishing, repairing and relipidizing virtues.
Lauric acid expresses high affinity for hair proteins. This means that coconut oil nourishes deep down and is particularly recommended for bringing shine, softness and moisture to dry hair.
- Dermatologically tested
- Formula containing 93% ingredients of natural origin
- Silicone and Sulphate free shampoo
- Apply straight to hair for the right amount
- Travel size beauty product
- 1 bar = 2 x 250 ml plastic bottles*
- 1 bar = 25 to 30 washes*
Expert tip: Be patient! A detox phase to get silicone out of your hair should be used to enjoy all the virtues of our sulphate free shampoo bar.
*depending on the length of hair and frequency of use
This eco friendly shampoo bar illustrates our commitment to sustainable development:
MADE IN FRANCE
This solid shampoo bar, packed full of the goodness of Provence, is inspired, created, manufactured and packaged using short circuits ensuring enhanced traceability.
LOCAL CROPS
As we strive for the highest standards and are deeply committed to protecting our natural Provencal heritage, we favour the use of organic active ingredients from Provence in this solid shampoo bar.
FRAGRANCES FROM GRASSE
All our fragrances are created by master perfumers in Grass, birthplace of the world's Fine Perfumery, where their perfume-related know-how has been listed as Intangible Cultural Heritage of Humanity by UNESCO. They are imagined focusing on exceptional natural raw materials and are exclusive to the brand.
ECODESIGN
Zero plastic waste for this natural shampoo bar! It is contained in a cardboard packaging FSC-certified and 100% recyclable. Our goal is to reduce our waste products, reuse, and recycle for a more sustainable future.
1. Rub the solid shampoo bar directly into wet hair or work it into a lather with your hands.
2. Massage your hair and scalp from the roots right down to the tips.
3. Rinse with cold water to stimulate microcirculation of blood and to close cuticle scales.
Remember to dry your solid shampoo bar so it lasts longer.
Expert tip: apply the shampoo bar like you're brushing your hair rather than using circular movements that tangle the hair and break fibres. To repair dry hair fibre without damaging it or weighing down the tips, we recommend you space out hair washing.
Avoid eye contact. In case of contact, rinse thoroughly with clean water.
HYDROGENATED VEGETABLE OIL / SODIUM COCOYL ISETHIONATE / AQUA (WATER) / POLYGLYCERYL-4 LAURATE / GLYCERIN / PARFUM (FRAGRANCE) / COCOS NUCIFERA (COCONUT) OIL / CAESALPINIA SPINOSA GUM / HONEY* PROPOLIS EXTRACT / ALCOHOL / ANHYDROXYLITOL / GLUCOSE / SODIUM COCOYL APPLE AMINO ACIDS / XYLITOL / XYLITYLGLUCOSIDE / TETRASODIUM GLUTAMATE DIACETATE. *Ingredient from organic origin
HONEY: Deliciously-floral Light yet deliciously-sweet creamy honey that mellows almond flowers and sandalwood.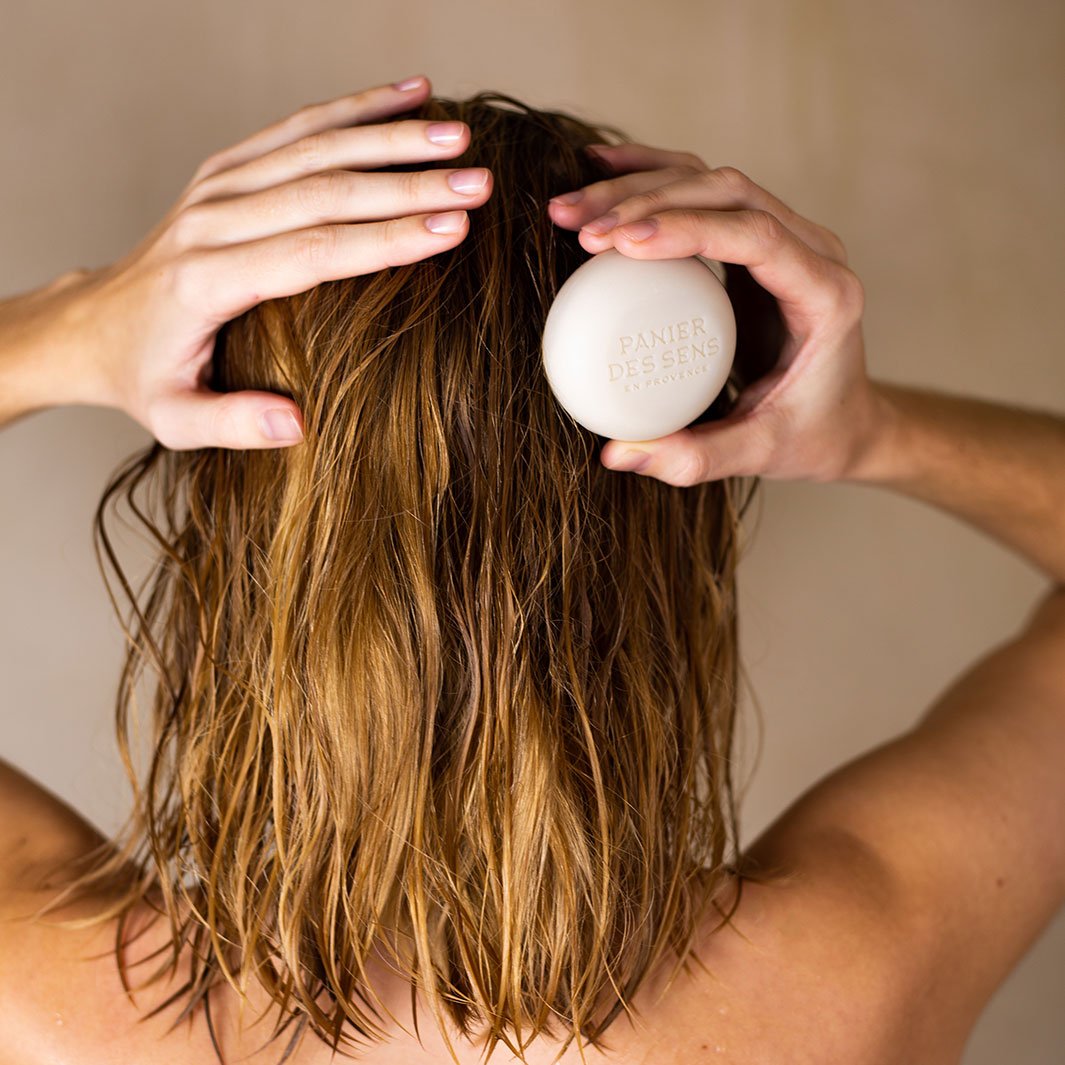 The best Solid Shampoo Bar ever!!!
I've discovered this solid shampoo bar on my last trip with my wife in France. Boy o boy, the honey fragrances and the quality of my hair after using it was remarqueble, so much that everyone i shared about it, wanted to get some for themselves.
The perfect quality gift to offer to your love ones, that's why i purchase 5 Solid Shampoo Bars.
Honey fragrances is the best choice!!!
Dr
This is a fantastic bar shampoo. It makes my fine hair feel and look stronger and it smells amazing. Highly recommend.
Smells and lathers great
As always, I'm obsessed with the Smokey sweet smell and it doesn't take much to get a good lather going. I'm not crazy about how it makes my hair feel after. Feels dry and flat.